1916 Revisited, the LAB, Foley Street, 24.06-10.08.2016
This project started off as an excuse to explore my Grandfather's past. He had lost family and friends in the war of independence and the civil war. He had fought in both and spent 3 years interned, I wanted to know what drove these people to risk it all to be Irish. Other than what was on the curriculum, which it turns out was propaganda (that's what you call an official lie isn't it?), a brief conversation with my Grandaunt and the my Grandfather's memorabilia sitting in my uncle's good room, I knew nothing of this revolutionary period where young men dreamt of a new world.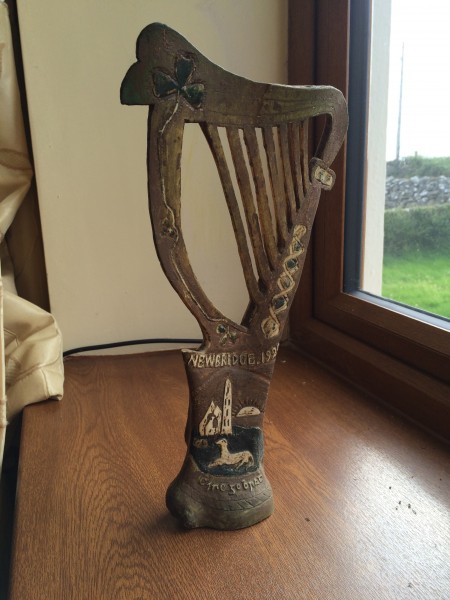 Today's Ireland which is a far cry from the one I left in 1999, having just got my leaving cert after 9 years of Sandford Park. I was no Garb going to Philadelphia, we were in the middle of the biggest economic boom we have experienced since leaving the empire. However my Mother had raised me to emigrate. She had left in 1966 from a catholic, nationalist and conservative Republic. In 1969, she returned to a country on the brink of war and to her ailing parents. She died before I could return and this project has been an attempt to reconnect with this Ireland.
1916 Revisited has been an attempt to understand how we keep memories alive. While on the continent they use dates and battles as place names, here we have used the names of those who fell on the right side of history. These places are main thoroughfares, new social projects and infrastructure. They are symbolic and meaningful. They also became a reason to talk to people and listen to what thy have to say.
This project has led me to Joyce's nightown (Monto), to a community run cultural centre in Tipperary (MacDonagh Heritage Centre) as well as the biggest collection of documents relating to the Irish fight for independence (the Jackie Clarke Collection). The people who guided me through these worlds spoke of the past, of their past, of trying to fit in, being Irish American or protestant, trying to move on, the grandson of a revolutionary or growing up in the Monto. I wanted this project to be a portrait of Ireland, to be unpretentious, familiar, to reflect her contradictions, to tell her stories with her accents, to be the start of another adventure.